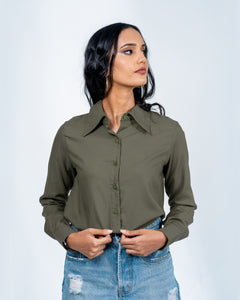 Constantly in search of the perfect Mint shirt?
Our team has come up with the perfect solution. No more complaining or frustration. Absolute Day Shirt is so comforting, you don't have to worry anymore about long days and still looking crisp.

All details have been thought of to craft the complete shirt of your needs to give you the clean look that you crave. And it's a "must-have in any closet, regardless of your style."
100% Cotton Fabric - Ideal for the excess humidity in the weather
- Model wears size XS | UK 6
size chart