Hear it from our Community
Gorgeous!! Can I just say you guys stuff is so worth the money 😍

Please do keep up the great quality! One of the very few places in Colombo where I know I can get quality pieces at great prices!

Nausheen Fauz
"Hi! I shopped at your store this evening and absolutely loved everything in there!
The clothes were made with such amazing quality material and I just want to say: Please please please keep the standard and prices as they are. It's so hard to find such amazing quality clothes that are homegrown that are good quality.
Really impressed with everything including the friendly staff! So helpful and so kind.
I'm so glad to have found an 'Absolute' Gem 💎

Lee Anne Krause
I am huge fan of Absolute Basic designs and these pants has saved me countless hours of deciding what pants to wear to work each day.
The high quality and light weight fabric is easy to iron, doesn't get wrinkly and looks dressy.
Feels soft and airy on your skin.
Great for tropical weather!

Maheshika Rathnayake
WEARABLE LUXURY
EMPOWERED | RESILIENT | TIMELESS
Explore our newest range of made to order - fine jewelry that is bound to make your heart sparkle.
Crafted with love & passion, these classic yet modern masterpieces will stand the test of time.Take a closer look to discover the exquisite make & the dainty details that will light up your day to day.
We say you'd hardly go wrong with these bespoke, staple, solid 14kt/18kt gold plated & sterling silver jewelry.
Explore More
From our advocates!
When it comes to slow fashion | is paying more really worth it?
In a world where words such as "sustainability" & "eco-friendly," are being tossed around as often as day light, for those of us wanting to learn & switch over towards more conscious fashion choices, concepts & their meanings can become super and intertwined among truths & nots real fast, real soon.
-Li Smiles-
The Fashion Piece that Time Travels
How can we make fashion a form that reconnects with ourselves? Yes, You and Me. What have you done lately to reconnect with yourself? We are literally prone to take good care of ourselves, don't we! But do we do the same to the things we associate ourselves with the most?
-Amanda Guyes-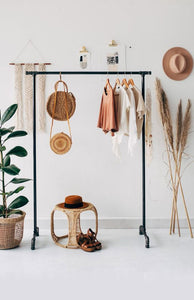 Slow Fashion = Getting rid of my current wardrobe?
You might have just discovered slow fashion and how important it is. Did you know however, this certainly does not require you to discard the sustainably unfriendly clothing you may currently have in your wardrobe?

-Talia Weerakkody-
Join Our Community #INABSOLUTE